100%
Primary Leaving Exam Passing Rate




In 2011, HVU launched the Enrichment Program, a weekly tutoring program designed to give Primary 7th-grade schoolchildren the educational support they needed to pass the Primary Leaving Exam (PLE) and become eligible for secondary school.
The results have been dramatic. As of March 2017, 100% of the children who attended the Enrichment Program passed the PLE, comparing favorably with the PLE passing rate of 82% in their local schools, 87% in the Kabale District, and 88% nationally among children who were not beneficiaries of the program.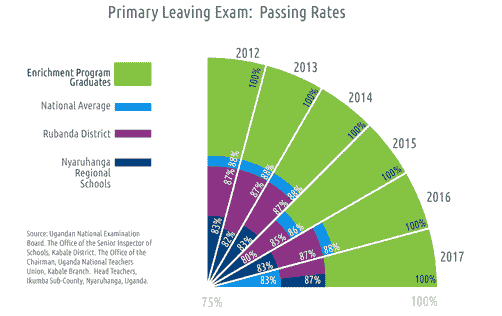 Significantly, of the Enrichment Program graduates, 96% enroll in secondary school, far exceeding the national matriculation rate of 22%. The Enrichment Program's strong results imply that its combination of academic support, practice drills and individual mentoring should be made available to more children. Consequently, since 2014, the program has tripled enrollment from 30 to 90 pupils, while maintaining high standards of performance from the girls and boys.
96%
Secondary School Placement Rate