Team
Bill Spoor, Founder of HVU
Bill graduated from Pennsylvania State University in 1992 with BS in Finance, a minor in Environmental Resource Management, and a varsity letter in football. In 1995, he graduated from the J.L. Kellogg Graduate School of Business at Northwestern University, going on to earn his Chartered Financial Analyst designation in 1998. From 1995 to 2007, Bill worked at Merrill Lynch as a Managing Director with the Global Markets and Investment Banking Group. Today, he works with Goldman Sachs in New York, NY as a Managing Director in the Leveraged Finance Group. Bill is also a commercial, instrument and multi-engine rated pilot, a skill that grants him access to the rural outposts of Africa.
Elke Spoor, Founder of HVU
Elke graduated from Gordon College in 1990 with BA in English and a minor in History. In 1992, Elke graduated from Lesley College with a Masters in Elementary Education. Her love of teaching, combined with her love for children, drove her to seek opportunities abroad for missionary work, leading her first to the Philippines, then on to work with an orphanage in Paraguay.
Bill and Elke currently reside in New Vernon, NJ with their four daughters. Together, they maintain a sheep farm in New Vernon, an activity that helps them scout livestock for families in Uganda. The Spoors are members of the Presbyterian Church of New Providence, NJ.
Caitlin McKoy, Director of HVU
In 1991, Caitlin graduated from Bryn Mawr College, receiving a Ph.D. in Philosophy from the New School for Social Research in 2003. From 2003 until 2011 she worked at Goldman Sachs, New York, both as an Analyst in Credit Research and as an Associate in the Securities Division, before departing in 2012 to pursue creative writing. Caitlin has been helping HVU achieve its philanthropic goals since 2013.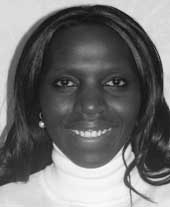 Amanda Kara, Chief Development Officer
In 1988, Amanda immigrated to Kenya as a refugee from Sudan, then immigrated to the United States in 1995. In 2005, Amanda graduated from the University of Alabama at Birmingham with a BS in Biology-Chemistry and an MA in Exercise Physiology. While at UAB, Amanda was Captain of the Track & Field Team and distinguished herself as a varsity letterman, academic all-American and all-conference star. Since 2008, Amanda has lent her considerable talents to HVU, handling development and overseeing daily operations. With three marathons under her belt, Amanda also enjoys coaching other runners and is a personal trainer at the Chatham Club of Chatham, NJ.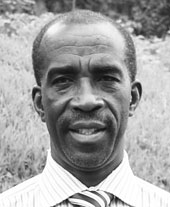 Geoffrey Tumwineyo, Enrichment Program Director
Geoffrey graduated from the National Teacher's College, Kabale, in 1992 with a Diploma in Secondary Education, before earning a Bachelor of Education Degree from Uganda Christian University, Mukono in 2005. From 1994 until 2012, Geoffrey served as Compassion International's Project Director in western Uganda, and is currently registered as a Graduate Teacher with the Ministry of Education. Since 2012, Geoffrey's leadership in the Nyaruhangan community has driven the Enrichment Program's success.